Welcome Alumni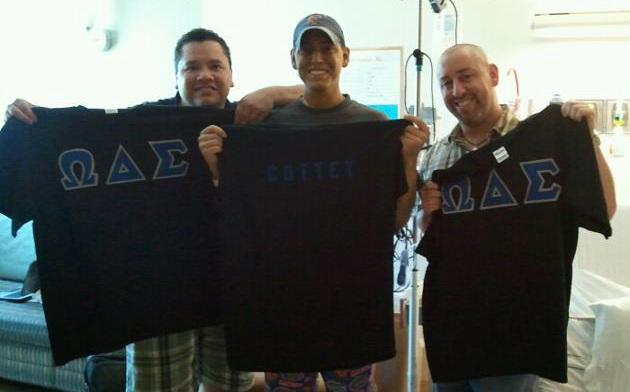 FL-A Alumni Eddie Morton, FL-A Alumni Jason Cottey, FL-A Alumni & Founding Father of the Fraternity Carlos Espitia, visiting Jason after his life saving surgery in 2011.
National Alumni Coordinator Chairman


Brother Jason Cottey 2012

Jason Cottey
After an honorable discharge from the Air Force in late 1998, he joined what is now known as Omega Delta Sigma during its founding year. "For a few years, I dabbled in several different majors and minors while helping ODS grow," reports Jason.
In 2003, Jason was invited to apply for a contracting job in Los Angeles, California, to work as a Software Test Engineer. This job was very similar to the Electrical Engineering Air Force, AFSC he had while he was active duty, "so it was an incredible opportunity that was not given very often. While in California, I met my soon-to-be wife, Erica, in 2005. At the start of 2007, the contract moved to Hill AFB, in northern Utah, so I followed suit. Then, in 2010 Erica and I decided to take the leap and got married aboard a helicopter flying over the Las Vegas Strip. (No, we didn't jump out.)" Just a few weeks ago, Jason moved to a new contract and is now working as a part of the test team for the software used aboard the A-10.



---

Alumni News


With the recent national convention, the topic of alumni affairs came up. With talking to the national board and executive board the decision was made to appoint an alumni brother to the newly created position of National Alumni Coordinator Chairman. Jason Cottey has accepted the position at the 2012 National Convention.


Alumni Contact Information


Alumni please keep Omega Delta Sigma up to date with your information as so we will be able to get things to you in the future.

Please follow this link below to update your contact information.
If you have questions or concerns about being an Alumni, Alumni Events, or anything else alumni related please email
Jason Cottey
©2012 Omega Delta Sigma, National Veterans Fraternity, Inc. All Rights Reserved. A Non-profit Veterans Organization incorporated in PA.