We are currently retooling our website so please check back for more later
Thank you for visiting Omega Delta Sigma, National Veterans Fraternity.
Our Core Mission
We are a collegiate fraternity for United States military personnel and veterans, both men and women. We are a non-profit organization that realizes that student veterans have different needs and experience than the traditional college student. Our mission is to establish chapters and have them work as a brotherhood for those military persons and veterans, to outreach to them and give them a home of other like minded and experienced individuals. It doesn't matter if you're a combat veteran, medical, or support, we all signed up to serve our nation.
One of our primary goals is to assist each other on campus and off in a multitude of ways. Knowing where housing is, how to navigate your G.I. Bill and other VA paperwork, where the nearest VA clinic or hospital is, tutoring each other, and of course socializing. A fundamental function of being a national organization is building a network of brothers that can assist each other with future employment, relocation assistance, alumni events, annual gatherings.
We consider ourselves more of a hybrid between a service and social fraternity. With that in mind we also encourage our chapters to integrate in events with other fraternities and sororities, and practice riding that gap between civilian life and military life.
The Foundation of Omega Delta Sigma
Omega Delta Sigma was founded in the year 2000 by a forward thinking group of veterans lead by Carlos Espito, attending The University of Florida. This first Founding Father and chapter didn't realize at the time that they would be the foundation of a larger national organization. They are now known as the Florida Alpha Chapter.
In the year 2008 our Brother Peter Ficnerski became the first National Founding Father, and first National President, bringing the fraternity on to the national stage. He worked diligently to get other campuses to form chapters and helped them get going.
We honor them and all our chapter founders each year with our founders day celebrations. In so doing we remind ourselves that our fraternity is built by veterans, for veterans, and through their hard work we have a brotherhood that we take great pride in.


Please select Chapters at the top link to our individual chapters pages, or Facebook pages.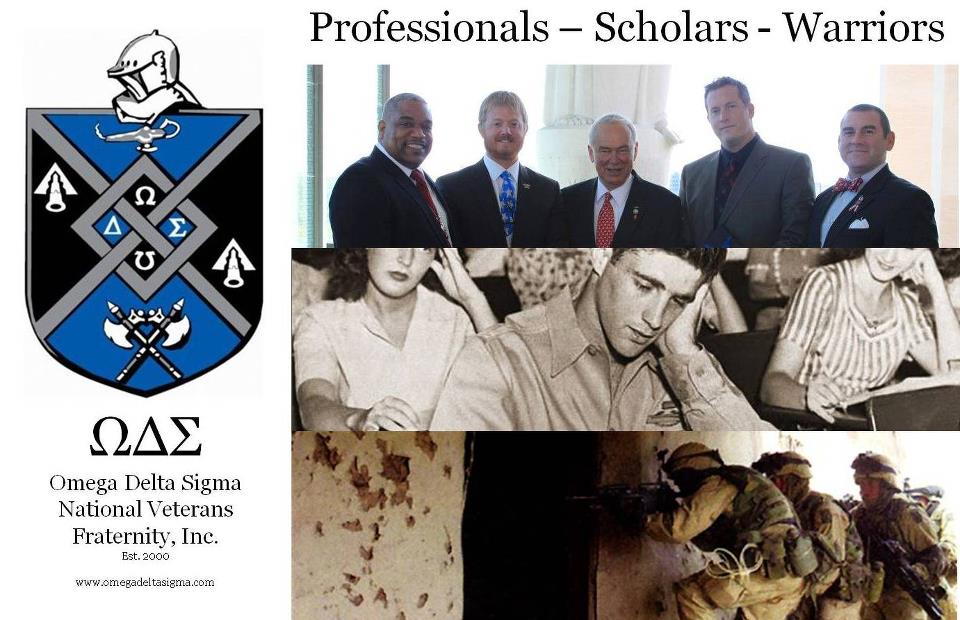 ---
Our Fraternal Pledge
Gallantry and camaraderie during military service is the foundation for this collegiate brotherhood. Honor, integrity, and respect are words that not only reside in our hearts but also were, and still are, a way of life for us.
Through immeasurable sacrifices we have helped keep this great nation free of tyranny and persecution. We hold our name in the highest regards along with those that have fallen before us protecting our way of life.
But to maintain our name we must conduct ourselves at all times in a manner befitting one who is part of such a tradition. The maintenance of tradition, discipline, gallantry, and love for this country and this brotherhood is our duty.
We must see that the same high standard of respect and prestige be not only maintained, but rather strengthen.

We are the brothers of Omega Delta Sigma.

---