---
Omega Delta Sigma
A Brief History
---
The Highest Degree of Brotherhood!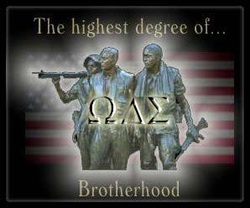 Brothers in Arms
In 1999 a group of friends and veterans got together and found that they did not quite fit the mold for the traditional fraternity. Being veterans they already had one of the strongest bonds there are but they wanted that to carry over into their collegiate experience so they decided to found Omega Delta Sigma. The first Chapter was brought into being at the University of Florida that same year.

Omega Delta Sigma took off at the University of Florida, Saint Leo University and Santa Fe Community College. But at the end of 2003 and beginning of 2004, the fraternity started to disband because of service obligation of our members, only a few were left at the University of Florida. These brothers were able to keep the Fraternity and their Chapter going until 2008.

In the summer semester of 2008 National Founding Father Peter Ficnerski contacted Omega Delta Sigma at the University of Florida, and found an old friend from high school and fellow Marine. After talking to him and the president of Omega Delta Sigma, he reestablished the second chapter (Florida Beta at St. Leo University) of Omega Delta Sigma on October 1, 2008. This event took Omega Delta Sigma from being a local fraternity at the University of Florida to a State Fraternity. These were the first steps Omega Delta Sigma took towards becoming the National Fraternity it is today.